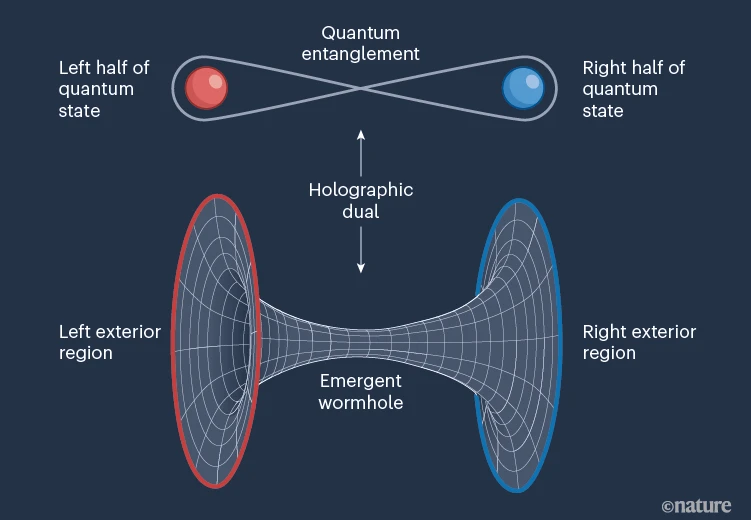 From Nature
, the leading European science journal:
A holographic wormhole in a quantum computer

Physicists have used a quantum computer to generate an entity known as an emergent wormhole. Quantum systems can be linked by entanglement even when separated by extremely long distances. The authors generated a highly entangled quantum state between the two halves of a quantum computer, creating an alternative description, known as a holographic dual, in the form of an emergent wormhole stretched between two exterior regions. They then simulated a message traversing this wormhole. Such exotic physics is part of efforts to reconcile quantum mechanics with the general theory of relativity.
Dr. Quantum Supremacy
responds
:
Tonight, David Nirenberg, Director of the IAS and a medieval historian, gave an after-dinner speech to our workshop, centered around how auspicious it was that the workshop was being held a mere week after the momentous announcement of a holographic wormhole on a microchip (!!) — a feat that experts were calling the first-ever laboratory investigation of quantum gravity, and a new frontier for experimental physics itself. Nirenberg asked whether, a century from now, people might look back on the wormhole achievement as today we look back on Eddington's 1919 eclipse observations providing the evidence for general relativity.

I confess: this was the first time I felt visceral anger, rather than mere bemusement, over this wormhole affair. Before, I had implicitly assumed: no one was actually hoodwinked by this. No one really, literally believed that this little 9-qubit simulation opened up a wormhole, or helped prove the holographic nature of the real universe, or anything like that. I was wrong.
That 1919 eclipse was hyped with a
NY Times headline
: "Men of Science More or Less Agog Over Results of Eclipse Observations".
Update: Here is the Quanta video.
Almost a century ago, Albert Einstein realized that the equations of general relativity could produce wormholes. But it would take a number of theoretical leaps and a "crazy" team of experimentalists to build one on Google's quantum computer. Read the full article at Quanta Magazine:
Quanta used to be a respectable magazine. As was Nature, which is now filled with woke nonsense.